Recently, "Viewing the World · Building the Future—2019 Overseas Service Planning Exhibition"organized by Jinqiao International was grandly held in Beijing. As an in-depth strategic partner, U&I GROUP was invited to attend the conference, of which the founding partner and CMO Mr. Brian Bian gave a lecture as a well-known family architect and wealth management expert in China.
Mr. Brian Bian's lecture was titled"The Importance of Cross-Border Asset Security and Planning", which was commenced from FATCA, BEPS, CRS, FATF, EOIR and other international tax information transparency processes. Combining a large amount of data and many typical cases, he explained in detail "the driving factor of cross-border wealth planning", "the connection between offshore and onshore models", "the structure and application of offshore family trust", "the functions of risk isolation and inheritance of private foundation" , and he also shared his opinions on Corporationalized Persons, Umbrella Wealth Structure, etc. , and have won the unanimous recognition and praise of hundreds of family customers and industry elites.
✦Founding partner, CMO Mr. Brian Bian is give the lecture.
This Overseas Service Planning Exhibition brought together many well-known experts in the global cross-border field and attracted a large number of high-net-worth individuals, and was reported by Tencent, Sohu, Netease, Toutiao and many other mains medium. Mr. Bian was also invited to accept a joint interview.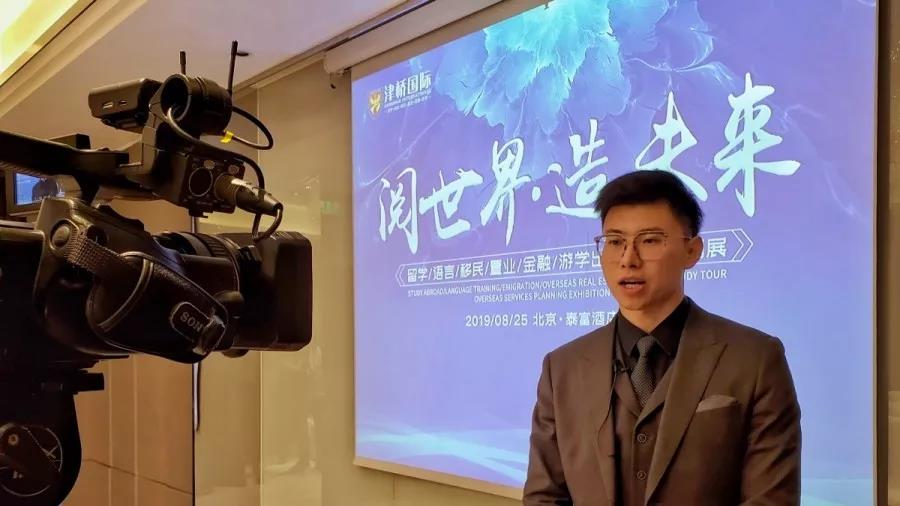 ✦Founding partner, CMO Mr. Brian Bian is being interviewed.
▶A few sketches of the interview:
▐ Journalist: In the background of CRS, how to use legal structure to resolve the family crisis resulted by other risks?
Mr. Bian: Through continuous practice and exploration by U&I GROUP , offshore trusts represented by VISTA (Virgin Islands Special Trust Act) and PTC (Private Trust Company) have become a significant vehicle for family enterprises to achieve assets preservation, tax planning, wealth inheritance, and at the same time, also have control over the assets.
▐ Journalist: What impact does the implementation of the CRS on offshore advantages and offshore trust planning?
Mr. Bian: CRS signifies that the global tax information transparency has become an irreversible trend under international consensus. In such context, offshore jurisdictions will enter a new era of active upgrading and de-labeling as tax havens. Offshore trust will be in a process of returning to its true nature. The advancement of CRS will remove the speculative tax avoidance in family and corporate trust planning, and return the focus on what the functions and advantages the offshore family trust really has-strict protection and risk isolation, flexible equity structure arrangements, sound protection and relief measures, and legally low tax rates.
▶ Watch the whole interview:
Jinqiao International has grown from Jinqiao Overseas Study Agency established in 1996. Now, Jinqiao has 23 years of international education experiences. It is an international education enterprise that integrates overseas studies, language training, study tours, immigration, overseas finance, Sino-foreign joint schools, art exchange, and entrepreneur alliances. The"international education ecosystem" proposed by Jinqiao provides domestic families with a full range of services at different stages in the process of going abroad.
U&I GROUP, as an important strategic partner of Jinqiao International, adheres to the service philosophy of "expertise, efficiency and fulfillment"and the culture of" satisfying others, fulfilling ourselves". Together with Jinqiao,  in the field of cross-border property planning for high-net-worth individuals, legal structuring, family wealth inheritance, and cross-border investment, mergers and acquisitions, overseas listings, overseas financing, and offshore structures, U&I Group  could provide one-stop solutions for our clients.